Special Guest: Bob Culley, Mold Assessment Consultant
This week, we have a special guest blog post from Mold Assessment Consultant Bob Culley.  He's here to provide insight into the mold assessment and remediation process so that you can get your mold problems taken care of the right way!
What Is It I Really Need?  An Inspection or a Protocol?
We receive 10-15 inquiries a week from lead generation services. Most if not all are from homeowners who have mold or suspect they have mold and need it cleaned up. They want a quote up front of what it costs to assess it, test it, and clean it up. In the state of Texas, this requires not one service, but two. Why? There are unscrupulous companies out there who will come in do some testing and then tell you that you have a big problem that must be cleaned up as soon as possible. Then they charge you astronomical fees for doing that work. Did they do a good job? Was there even a problem to begin with?
The state licenses mold assessment consultants to protect the consumer from fraudulent business activities from non-licensed companies who prey on people's lack of information and knowledge on the subject.  Most companies who both test and remediate are unlicensed through the state. Most air duct cleaning companies are also not licensed to remediate mold in the state of Texas. If this were not true, then they would most certainly know that before cleaning up any mold, they require a mold assessment consultant to come in, in some cases do testing and then prepare a protocol to indicate how the mold should be remediated. THEN, the mold assessment consultant comes back after the remediator has completed the removal and clean up, and he/she visually looks at the job to make sure it was done by the proper procedures, then conducts tests to verify the cleanliness of the area that was remediated.
Here is an easy way to tell exactly what you need when you contact a company about your mold issues: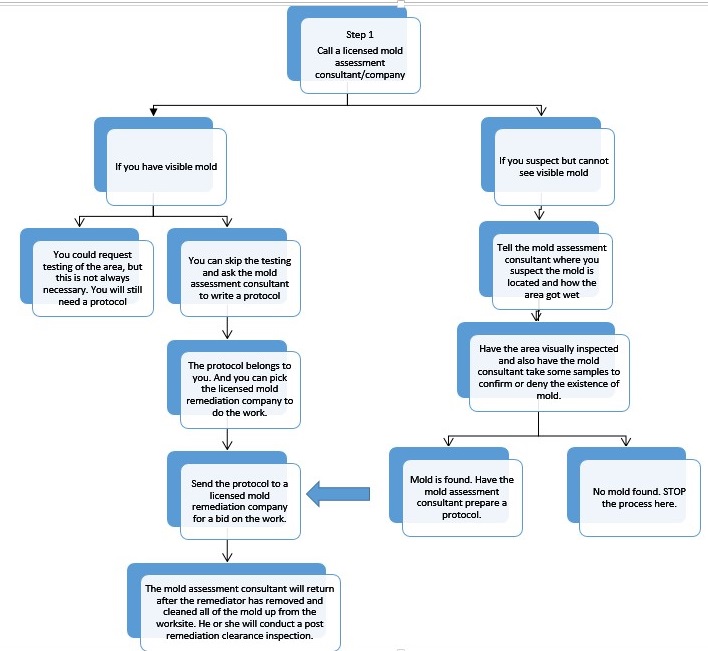 Obviously, the more the mold consultant does either in the number of trips he or she makes to your house, or the total number of samples taken, the prices can shoot up there very quickly. The best mold assessment consultants will advise you of the more cost effective way to get the job done. If an assessment or sampling takes place before the presence of mold is indicated, then ask your mold assessment consultant what it is going to cost to add the protocol after the assessment (inspection) has taken place. This should be established up front. Don't pay $500 to $1,000 for an assessment only to find out the protocol is an additional $1000. THIS HAPPENS EVERY DAY.
Also ask for a flat price and the cost of additional samples if necessary. Make sure the remediator has to pay for any re-inspections. You may have just saved yourself hundreds of dollars reading this blog.
Bob Culley

Texas Licensed Mold Assessment Consultant #1184
Expires 12/07/2018