Garlic and Aspergillus niger
Garlic and Aspergillus Niger
We all know Garlic has many uses. We like it in our special sauces and on our Garlic bread and it has even been called a Super Food and according to a research paper from 2007, Garlic (Allium) can possibly help slow the growth of Aspergillus Niger and other common fungal species in food and produce.
"Control of Aspergillus niger with garlic, onion and leek extracts" was published in the African Journal of BiotechnologyVol. 6 (4), pp. 384-387, February, 19 2007. Reyhan Irkin of Balikesir University, Susurluk Vocational School, Susurluk, Balikesir, Turkey  and Mihriban Korukluoglu of Uludag University, Agricultural Faculty, Food Engineering Department, Gorukle, Bursa, Turkey set out to research an alternative to chemical preservatives and search for new natural sources for food preservation.  
Here are some images of Aspergillus Niger and Allium sativum L.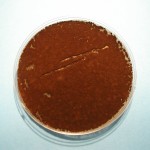 Garlic (Allium sativum L.) and other Allium genus possess anti-bacterial and anti-fungal activities.  In lab studies on the fungus Aspergillus niger, researchers found that the extracts of Allium can inhibit mold growth. Specifically red onion and garlic essential oils. These were found to have the strongest effect on A. niger.
What does this mean or possibly mean? Well, in food preparation and preservation, Allium may provide a good "natural" inhibitory effect against fungal growth. Now there is only one thing to get past and that is the smell.  Further research is still to be done and I for one look forward to it.
Tell us what you think.
Have you come across any interesting news articles or pictures, let us know.
Research Article:
http://ajol.info/index.php/ajb/article/viewFile/56223/44667